News
08/04/2007 2:50 PM
Article By:
THIS WEEK IN THE CAPE LEAGUE
(30 July – 4 August 2007)
Legendary Cape League Manager John Schiffner
Breaks Don Reed's League Record for Most Wins
CHATHAM, Mass. – After two fog-outs postponed the inevitable, John Schiffner finally earned his 335th win as Chatham A's field manager on Thursday, Aug. 2, and broke the Cape Cod Baseball League's modern era mark for most victories held by Don Reed, who managed at both Yarmouth-Dennis and Wareham.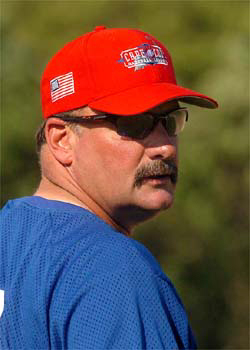 John Schiffner Chatham A's
SportsPix / 2006
The affable Schiffner, who had upped his total to 336 career victories following Friday's win at Cotuit, was thwarted in his attempt to break Reed's all-time mark earlier in the week in games fogged out at Veterans Field on Monday and Tuesday, only to have the A's wallop the West Division leading Bourne Braves, 10-1 in the conclusion of a make-up game Wednesday before the hometown fans.

"I'm rather humbled by this whole experience," said Schiffner. "After all, I've got such a great respect for the Cape League, going all the way back to my playing days in Harwich. My kids (players) really wanted to win for me. You can't find a better place to coach than on Cape Cod."

Reed, who led Y-D to four straight playoffs and Wareham to an additional nine straight winning seasons, posted a 334-214-19 career record. Schiffner had been tied with Reed since the A's posted a 5-4 win over traditional rival Orleans on July 27. He passed former Chatham field manager and mentor Eddie Lyons (331 wins) the previous week.

Despite his youthful appearance, Schiffner is the current dean of Cape League field managers and is in his 15th consecutive season as mentor for the Chatham A's and 23rd overall with the team. He previously served as an assistant under CCBL managing legend and Hall of Famer Lyons, and he played for the Harwich Mariners during the summers of 1974, '75 and '76..

Schiffner was involved as either a manager or coach for all four Chatham A's championship teams, in 1982, '91 and '96, and in 1998 with a finale win against current MLB All-Star southpaw Barry Zito of the Wareham Gatemen.

"It's a spectacular achievement to become the all-time winningest field manager in Cape League history," said CCBL commissioner Paul Galop, a longtime friend and colleague. "John's attention to detail and dedication to his players is second to none. One of the reasons he is able to attract so many of the top players in the country is the way he treats them and the relationship he has with their college coaches. To have him manage all those years with the same franchise is simply amazing."

"It was fitting that we had two fog-outs – that's a regular occurrence in Chatham," joked Schiffner. "But it's been a fun ride managing in Chatham all these years and it's been so easy to recruit players to this league. I've grown up with so many of the league administrators such as Paul Galop, Dick Sullivan and Judy Scarafile. We were a very good league when I played in the mid-1970's, but it has just exploded during the past 15 years, starting in the early 1990's, when our players started to advance to the major leagues in big numbers."

The personable Schiffner, who coaches a high school team in Plainfield, Conn., is easily the most recognized manager in the Cape League after being portrayed in the Warner Bros. movie "Summer Catch" in 2001 by veteran actor and Academy Award nominee Brian Dennehy.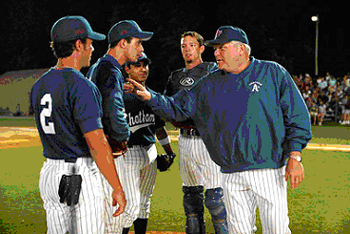 Two-time Tony Award winner and Golden Globe Award actor
Brian Dennehy, right, who played Chatham A's field manager
John Schiffner in the Warner Bros. movie "Summer Catch" in 2001, is shown giving pitching instructions to southpaw Ryan Dunne,
played by actor Freddie Prinze Jr.
With the win at Cotuit Friday, the A's improved their record to 23-13-3 for 49 points and were in the drivers-seat for a second-place finish and a playoff berth in the East Division of the Cape League.

In a league where most teams are managed by top-notch Division I assistants or small college head coaches, Schiffner has proven his worth since taking over the reins of the A's in 1993 and has recruited some of the nation's top collegiate talent to wear the Chatham blue and red each summer.


RED SOX REIGN: The Yarmouth-Dennis Red Sox became the first Cape League team to clinch a playoff berth. With a 28-10-1 record, Y-D was just five wins away from the all-time modern era record of 33 wins and 67 points set by the 1979 Hyannis Mets, who were led by the CCBL Hall of Fame duo of Ross Jones and Ron Perry Jr. The Mets hit a league record .314 that season … The 1964 Cotuit Kettleers hold the record for best winning percentage at .912 (31-3).

COMMODORES CONTINUE SURGE: Thanks to a two-game sweep over Cotuit and the Mets' 3-2 loss to Bourne, the Falmouth Commodores increased their second-place and final playoff berth in the West Division to six points over Hyannis. The Commodores are six points behind the division-leading Bourne Braves.

CAPE LEAGUE ALUMNI ROCK: CCBL alumni Doug Mirabelli (Hyannis '90) and Eric Hinske (Hyannis '97), who presented plaques to Cape League All-Stars and their field managers during a pre-game ceremony at Fenway Park before Wednesday's Boston-Baltimore game, slammed back-to-back home runs to lead the BoSox to a 7-4 victory over the Orioles Thursday afternoon. During Wednesday's 5-4 Red Sox victory, Kyle Snyder (Chatham '98) and Javier Lopez (Falmouth '97) were the pitching well in relief for the Red Sox, while Kevin Youkilis (Bourne '00) was one of the hitting stars. MLB All-Star second baseman Brian Roberts (Chatham '98) slammed an RBI double for the O's.

WHO'S HOT … AND WHO'S NOT: Jason Castro (Stanford) of Y-D took over the lead for the coveted Thurman Munson Top Batting Average award with a .368 average. Conor Gillaspie (Wichita State) of Falmouth at .358 and Shane Peterson (Long Beach State) of Hyannis at .353 were within striking distance. Peterson was leading the league in hits (49) ...
Slugging Y-D infielder Gordon Beckham (Georgia) led the loop with eight homers and was one RBI behind Dennis Raben (Miami) of Orleans with 31 RBI … Blake Tekotte (Miami) of Brewster led the league with 21 stolen bases.
The Y-D duo of Eddie Burns (Georgia Tech) and Terry Doyle (Boston College) and Chatham's Tom Milone (Southern California) were the league's only five-game winners. Red Sox closer Nick Cassavechia (Baylor) led the league with 11 saves and was closing in on the Russ Ford Outstanding Relief Pitcher Award.
Wade Miley (SE Louisiana) of Wareham and Christian Friedrich (Eastern Kentucky) of Falmouth led the league with 52 strikeouts, followed by Brett Jacobson (Vanderbilt) of Harwich with 51.
Y-D had compiled the highest team batting average (.277), followed by Bourne (.260) and Chatham (.256). Wareham (.216), Orleans (.217) and Harwich (.228) were the bottom three teams.
The Orleans Cardinals still led the CCBL with a 2.81 ERA, with Y-D (2.84) and Bourne (2.86), hot on their trail … Cotuit was last in team pitching with a 4.73 ERA.

REAPING THE REWARDS: The list of CCBL postseason awards presented during the next two weeks during pre-game ceremonies include: Pat Sorenti Most Valuable Player, Thurman Munson Batting Champion, B.F.C. Whitehouse Outstanding Pitcher, Russ Ford Outstanding Relief Pitcher, Daniel J. Silva Sportsmanship Award, Manny Robello 10th Player Award, Mike Curran Manager of the Year, John J. Claffey Top New England Prospect, Robert A. McNeese Top Pro Prospect, ESPN/SportsTicker Star of Stars Playoff MVP, Curley Clement Umpire of the Year, Commissioner's Cup, and Dick Sullivan Executive of the Year.

GAME OF THE WEEK ON WBZ: This week's CCBL Game of the Week on WBZ Radio 1030.com was to feature Cotuit vs. Yarmouth-Dennis at Red Wilson Field, Tuesday, Aug. 7, starting at 4:20 p.m., with broadcast legend Fred Cusick providing the play-by-play and the CCBL's John Garner handling color.

John Garner Jr., Director of Public Relations & Broadcasting ([email protected])

Interns: Erica Bailey, John Hannemann, Liz Hoffman,
Gabriella Remington, Kevin Wolfe