News
08/17/2007 3:14 PM
Article By:
17 August 2007
THIS WEEK IN THE CAPE LEAGUE
2007
THURMAN MUNSON
BATTING CHAMPION AWARD
Thurman Munson Award as Batting Champion
Goes to Falmouth's .345 Hitter, Conor Gillaspie
Falmouth third baseman Conor Gillaspie (Wichita State) joins an elite list that includes the likes of Lou Merloni (.321, Cotuit 1992), Jason Varitek (.371, Hyannis 1993) and Lance Berkman (.352, Wareham 1995) and many other eventual major leaguers as a recipient of the Thurman Munson Award, given to the leading hitter in the Cape Cod Baseball League each summer.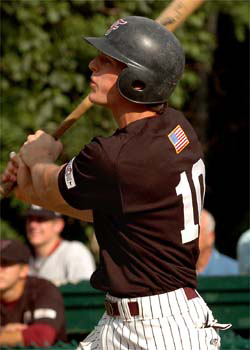 Conor Gillaspie, Falmouth Commodores
SportsPix 2007
Gillaspie batted a league-best .345 while crushing seven home runs. He also found himself atop the league in slugging percentage (.673) and extra-base hits (21), all while leading the Commodores into the postseason playoffs.

Unfortunately, though, after putting his Commodores into the championship series with a go-ahead, two-run double in the fourth inning of the Aug. 12 victory which eliminated the Bourne Braves, Gillaspie had to call it a summer and head home to prepare for the resumption of classes at Wichita State.

The Thurman Munson Award is presented in memory of the great New York Yankee catcher and captain, whose life ended on Aug. 2, 1979, when the private jet he was piloting crashed near his hometown of Canton, Ohio. Munson had starred for the 1967 Chatham A's, for whom he batted .420. The following spring, the Yankees made him their first-round draft choice.

Winning this award is an impressive achievement for any young hitter in the Cape League, where pitchers usually dominate. Fresh off long spring seasons with their respective college teams, hitters who come to Cape Cod must quickly adjust to less forgiving wooden bats, while pitchers are already in commanding, mid-season form.

For the young left-handed swinger from Omaha, Neb., hitting has always been his strength. In his junior and senior years at Millard North High School, Gillaspie hit over .500 and led his team to a state championship.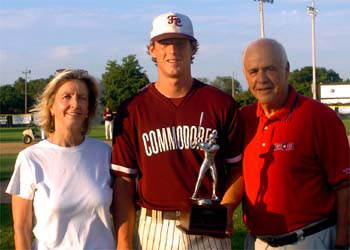 Conor Gillaspie, Batting Champion
with President Judy Scarafile and Umpire in Chief, Sol Yas
SportsPix 2007
As a freshman at Wichita State in 2006, Gillaspie batted .352 and slugged seven home runs. He strung together a 17-game hitting streak that ran from April 28 to May 25, including a season-high five-hit performance against Southern California.

The Commodores undoubtedly missed Gillaspie's big bat as they were held to just two runs while being swept by the Yarmouth-Dennis Red Sox in the best-of-three CCBL Championship Series. They lost, 8-2 at South Yarmouth and 2-0 at Falmouth.
Back at Wichita State, Gillaspie and the Shocker baseball team will strive to make a run for the College World Series at Rosenblatt Stadium in Omaha next spring. Rosenblatt is a special place to Gillaspie, who hit a home run there in the Nebraska State Championships during his senior year of high school.

Gillaspie follows 2006 Munson Award winner Matt Mangini (Oklahoma State), who batted .310 for the Hyannis Mets, and he becomes the fourth Falmouth player to lead the league in hitting in the modern Cape League era. The others are Jim McCullum (Clemson), .413 in 1984; Sam Nattille (Central Florida), .443 in 1980, and Ed Orrizzi (Stanford), .372 in 1972.

With the 2007 Thurman Munson Award added to a long resume of hitting success, Gillaspie is well on his way to joining past Cape League batting champions who have gone on to display their hitting prowess in the major leagues.
By Adam McGillen, CCBL Intern [email protected]

Interns 2007: Erica Bailey, John Hannemann, Liz Hoffman,
Gabriella Remington, Kevin Wolfe