News
08/17/2007 3:26 PM
Article By:
17 August 2007
THIS WEEK IN THE CAPE LEAGUE
2007
DANIEL J. SILVA
SPORTSMANSHIP AWARD
Hyannis Mets Catcher Shea Robin Named Recipient
Of 2007 Daniel J. Silva Award for Sportsmanship
Strong-armed catcher Shea Robin (Vanderbilt) has joined six other Hyannis Mets alumni as a winner of the Cape Cod Baseball League's Daniel J. Silva Sportsmanship Award.

The Vanderbilt junior enjoyed a solid first season in the CCBL, appearing in 29 games as catcher for the Mets. He batted .229 with a home run and eight RBI. Robin's performance both on and off the field made a strong, positive impression on those around him as his character and selfless attitude demonstrated the true definition of a student-athlete at his best.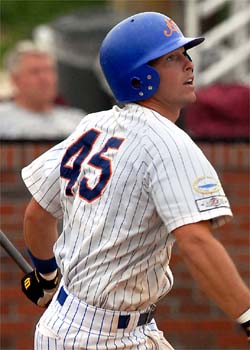 Shea Robin, Hyannis Mets
SportsPix 200
Robin's selection continues what is becoming a tradition – selecting a catcher as recipient of the Silva award.

Last year's winner, Brewster second baseman Matt LaPorta (Florida), was actually a catcher in high school and early in his college career, but wound up being chosen by the Milwaukee Brewers in the first round of the 2007 MLB draft as a first baseman. Wareham catcher Joel Collins (South Alabama) was the award winner in 2005, following two other Hyannis catchers, Chris Robinson (Illinois) in 2004 and Richard Mercado (Arizona) in 2003. The position requires extreme concentration, discipline and leadership qualities and demands strong communication skills.

Other Hyannis Mets who have won the Silva Award are Curtis Sapp (North Carolina State), 1999; Will Vespe (Miami), 1988; Jim Howard (Siena), 1983, and Brick Smith (Wake Forest), co-winner in 1980.

Combined with his strong arm and willingness to pitch out, Robin has been an integral part of the Mets' late-season surge. They came within a whisker of making the post-season playoffs, only to be upset by last-place Wareham on the next-to-last day of the regular season. Those who have watched Robin in action have been impressed.

"Shea has a strong arm and he is not afraid to throw out at any time, particularly to first and third base" noted John Garner, CCBL director of public relations and broadcasting.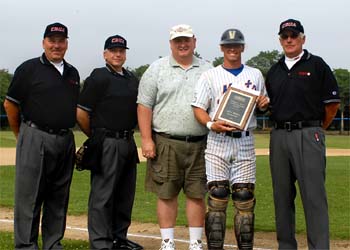 Shea Robin with Commission Paul Galop
CBUAO umpires P. J. McConville, Dan Salce, Peter Hall.
SportsPix 2007
Robin's ambitious approach to the position has been a reflection of his strong character. Standing 5-11, the Woodland, Tex., native has always been a well-rounded athlete. He has also earned awards for his academic achievements, including a spot on the SEC 2007 academic honor roll, as well as Vanderbilt's 2007 dean's list.

Robin's .311 batting average during the 2007 college baseball season was an important component of Vanderbilt's surprise win at the SEC championship last spring. His roommate at Vandy is fellow catcher Andrew Giobbi, who spent the summer of 2007 with the Falmouth Commodores.

Robin helped Vanderbilt hold the No. 1 spot in the USA TODAY/ESPN Coaches' Poll for nine straight weeks and was selected as catcher for the SEC All-Tourney team.

Ticketed for the starting catcher's job as he returns for his third year at Vanderbilt, Robin, a converted outfielder, has displayed determination and a desire to constantly improve, resulting in a smooth transition to the position of catcher.

Robin previously spent his college summers competing with the Waterloo Bucks of the Northwoods League. He has displayed a consistent batting average throughout his baseball career and has also been a reliable run-producer.

This summer, Robin's sportsmanship has made a profound impact on those around him. "Shea is sociable and a hard worker," says Mets General Manager John Howitt, "He has many qualities you do not often see in someone his age."

Robin has built strong relationships with teammates, coaches and umpires. He has displayed respectful conduct and a gracious attitude for the game of baseball while showing strong competitive spirit combined with good character -- important attributes when being considered for this award.

Since 1973, the Daniel J. Silva Award has been one of the Cape League's most prestigious honors. The league's umpires are charged with the task of picking the winner. The umpires witness a player's sportsmanship first-hand and are in a unique position to make the choice.

The award honors the memory of "Danny" Silva, the league's first commissioner in the "modern" era, who helped guide the Cape League from a loosely organized group of "town teams" to a highly competitive league which began to be noticed in baseball circles by attracting outstanding collegiate players from around the nation. He also spent many years as a Cape League umpire and umpire-in-chief. Silva was posthumously inducted into the Cape League Hall of Fame in 2000.

By Jamie Haddad, CCBL Intern ([email protected])

Interns 2007: Erica Bailey, John Hannemann, Liz Hoffman,
Gabriella Remington, Kevin Wolfe